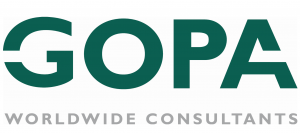 Recruiter (m/d/f) Education and Employment Promotion
Placing people at the heart of development: GOPA Consultants
Implementing diverse projects in transition and developing countries and thus contributing to a "better tomorrow" is our business. With a turnover of EUR 70 million and 150 permanent staff members we, GOPA Consultants, are one of the leading consulting companies in the field of International Cooperation. For more than 50 years, we have been successfully implementing projects on behalf of national and international institutions; for example, the Deutsche Gesellschaft für Internationale Zusammenarbeit (GIZ), the Kreditanstalt für Wiederaufbau (KfW) and the European Union (EU). Topics are manifold, ranging from the improvement of education for the young, through public administration reform and the support of democratisation, to measures of climate change adaptation.
---
GOPA Worldwide Consultants is looking for a permanent, full-time Recruiter (m/d/f) in our Education and Employment Promotion Department at our headquarters in Bad Homburg.
Are you looking for an international working environment? Do you feel comfortable in a lively team with flat hierarchies, enjoy working with different people, and showing your skills in dealing with various personalities? Then we should get to know each other.
As Recruiter, you liaise with the people who are most important for the success of our projects worldwide: our experts on site. You identify the project staff for Education and Employment Promotion projects and maintain close contact with our experts. As part of a larger team, you are also contributing towards the successful implementation of our international projects.
Mission to accomplish: your tasks
You analyse the project-personnel requirements of various development partners (GIZ, EU, MCC, KfW, DEZA, etc.)
You use a variety of recruitment methods to pre-select applicants for the right position, such as our internal expert databank, social media and active sourcing
You are responsible for compiling the appropriate expert profiles, thereby demonstrating your linguistic and analytical skills
You are the first point of contact for our experts – from the initial telephone conversation, to accompanying them throughout project implementation
You negotiate fees & contracts
You maintain and expand our network of experts
Where your heart is: your profile
You have an open-minded personality and are a strong communicator who likes to work and interact with people in different teams in an international environment
You hold a relevant academic degree and first professional experience
You are fluent in German, English and French (both written and spoken)
You like to approach people, negotiate and agree on contractual conditions, and establish long-term working relationships
Writing texts with a clear focus is one of your strengths
Your bring along both creativity and an eye for detail
You are reliable, well organised and able to keep track of your tasks, even under high workload and with tight deadlines
Our offer
The opportunity to focus on your area of expertise
Technical work in a small, dynamic team
Short communication and decision paths, and a living "open-door" culture at all levels
Continuous investment in your further development
A free job ticket
Job bike
Our own canteen
---
GOPA Consultants
Kirsten Möhlmann (HR Manager)
Hindenburgring 18
61348 Bad Homburg
personnel@gopa.de
veröffentlicht:
läuft aus am