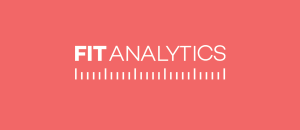 Head of People and Talent
Fit Analytics — the world's leading sizing solution for apparel & footwear and one of the fastest growing tech companies in Berlin — is seeking an experienced HR leader to scale our team. If you're passionate about building a highly qualified team at rapid speed while establishing a sustainable company culture, we want to hear from you!
Who We Are
Based in Berlin and Chicago, we're a team of data scientists, fashionistas, physicists, business analysts, designers, and hackers, working together to tackle a single problem: making it easy for online shoppers to find the right clothes size. We help some of the world's largest clothing brands solve sizing issues, boost conversions and slash returns.
What We Do
Our core product, Fit Finder,  helps clothing and apparel companies instantly access the power of machine learning to deliver a perfect fit for customers. The Fit Analytics sizing platform combines the world's largest database of garment and fit information with hundreds of billions of euros of purchasing records and consumer preferences. By applying the power of machine learning to this unique data set, we've created a range of innovative solutions that help drive improvements throughout the apparel lifecycle from Manufacturing to Marketing.  Leading apparel brands and retailers across six continents trust our platform to solve sizing at scale and deliver meaningful bottom-line impact. Our clients include the likes of Zara, Asos, Hugo Boss, JD Sports, Bershka, The North Face, Tommy Hilfiger, Uniqlo, Calvin Klein and many more!
---
What The Role Involves
Preparing the company for further growth and scaling by developing recruiting strategies to attract and hire qualified candidates
Working with internal and external recruiters and software tools (especially Greenhouse) to develop and execute on a comprehensive sourcing strategy to build qualified and diverse talent pipelines
Optimizing all phases of the recruitment life cycle ( sourcing, screening, evaluation,selection, reference check and offer) and ensuring that all phases are properly coordinated, monitored and tracked
Measuring key recruitment metrics, such as source of hire and time-to-hire
Ensuring proper onboarding and training for new hires
Evolving our management practices (HR policies, performance management, coaching, development, training) to keep pace with our growing company
Overseeing HR initiatives, systems and tactics
Contributing to and maintaining a sustainable company culture and work environment
Monitoring adherence to internal policies and legal standards
What We're Looking for in You
Proven experience (3+ years) in scaling a company's team size at rapid speed, preferably in a tech company environment and in a leading position
Minimum 5 years hands-on experience with candidate sourcing, interviewing and evaluation
Deep knowledge of HR functions (talent management, recruitment, employee development, HR policies, company culture, etc.)
Thorough knowledge of human resource management principles and best practices
Excellent verbal and written communication skills in English and German
Very strong organizational and leadership skills
Outstanding efficiency in implementing strategies and plans
Basic knowledge of German and US labor law is an advantage
Very good knowledge of HR recruitment tools and software such as Greenhouse
Strong team player
Resident of Berlin
What We Offer You
A competitive salary
Hands-on experience building a product that is revolutionizing the apparel & footwear market
A spot in our smart, creative and highly motivated international team
Daily breakfast and lunch plus regular team events
Why We're Different
We're not sitting around wondering what the product is and burning other people's money while expecting everyone to work ridiculous hours for little reward. We're profitable, organized, and already providing a unique solution that delivers huge value to our partners while helping millions of people a month shop better online.
If you're excellent at what you do and want to apply those skills to solving a genuinely hard problem together with a great bunch of people, you've come to the right place. To take the next step, send us your CV (in English or German) and a brief message explaining why you're the perfect fit!
---
Please apply online at: https://boards.greenhouse.io/fitanalytics/jobs/4208299002
Any questions or concerns can be addressed to our HR team at: recruiting@fitanalytics.com.
We look forward to hearing from you!
veröffentlicht:
läuft aus am